Software Service
Snacko Bill Accouting
Software designed exclusively toward the needs of Snackos.
Member Management
Create accounts for members who haven't registered for a member account or for those that haven't arrived on station yet. Your members never have to register and you'll still be able to invoice and bill them just as any other member. Snackos can create groups of members to facilitate group invoicing and set up dues for each group.
Dues
Once you specify a monthly dues amount for a group our system will automatically charge dues on a monthly basis. Easily separate your assigned, attached, officer, enlisted, student etc members with varying dues amounts.
Snacko Bill Statements
Digital statements keep a real time account of all transactions and payments.
Online Billing
Have the option to email out Snacko Bills to your unit when you choose or let us send automated emails after the closeout of every month.
Invoicing
Invoice to a members tab or send a bill to an email. You can invoice individually or in bulk for multiple members with the same charge. For those still desiring to use tally sheets its easy to print a template with names prepopulated and enter the tally sheet into our invoicing calculator to automate the process.
Reports
It's easy to review and report on activity occuring in your unit over a specified time. Whether you simply need to see where your unit stands or are compiling for your annual filing all of the data is easy to find.
Cross Platform
Snackos and Members can easily access accounts online or through one of our apps. Regardless of where you manage your account your data is syncronized to reflect transactions in real time everywhere.
Pricing
Member Accounts
Simple pricing based on the resources you use, and relative to the size of your operation. Pay a small daily fee for each member in your unit.
$0.01 / Day
Per Member
No member fees for the first year
Payment Processing Fees
Choose the best way to accept payments for your unit. Use our native or connected payment processing options to accept payments online or through our app. Or you can take payments your way and manually record the payment at no additional cost.
Manual Payment Entry
This is the default option, allowing you to manage payments yourself.
Native Payments
Use our built in payment processing option for a streamlined experience.
Connected Payments
Process payments by connecting to your existing third party processor account like Square.
Powerful Apps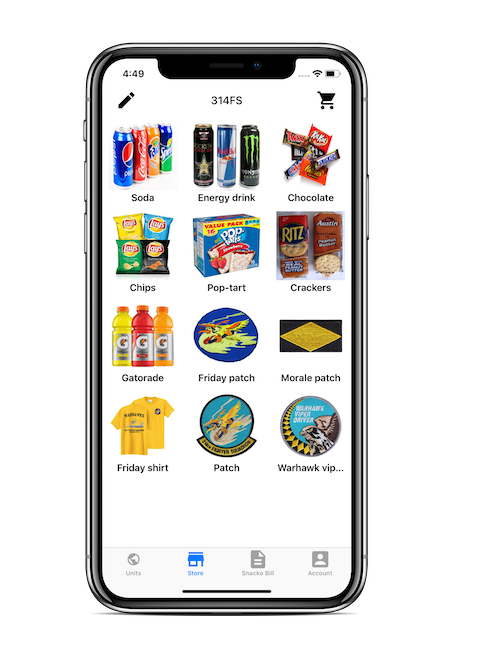 Snacko for iOS
The Snacko App enables Snackos to take credit card payments in person. From the Snacko app you can also view your unit balance totals, manage individual members and view their Snacko Bill details, and even invoice items to one or more members snacko bills. View in App Store
Snacko Register for iOS
Our Register App for iPad allows you to sell items or let your members view and pay their Snacko Bill at any time from your point of sale kiosk. With a tap members can add items to their tab, updating their snacko bill in real time. Members can also passcode protect their tab to prevent unauthorized purchases. At your discretion you can turn on cash payments and set limits for cash purchases and Snacko Bill payments. View in App Store
Legal Compliance
Our legal compliance guide will help you help you determine what you need to do to make sure you're adhering to legal regulations and what your annual filing requirements are with the IRS.
Base
Did you know there are limits and restrictions for private organizations operating on base? Even unofficial MWR activities like snack bars are subject to AFI.
---
State
Most Snacko operations are operating as unincorporated non-profits whether they know it or not. Learn when and why to incorporate and what your state tax responsibilities are.
---
Federal
Do you know your IRS reporting requirements? Being a non-profit does not automatically make you tax-exempt, and even tax-exempt organizations have annual filing requirements with the IRS.
---